In addition to our extensive schedule of entertainment and activities, there will be a wide range of food and beverage vendors to satisfy every taste at several locations throughout the festival.
Drink ticket sales will end at 11:00pm, bar closes at 11:30pm.
Our Festival Food and Drink vendors
Catholic Daughters – Irish Stew & Irish soda bread Also doing a Quilt Raffle & iPad Raffle
Pig-in-a-Bag – BBQ, Pulled Pork, Brisket, Steak, Toco's Nacho's & More
Smokin' Hot Barbie Q – Smoked Meats, Sandwiches, Nacho's Homemade sides
H & H Catering/Uncle Ed's – Corn Beef & Cabbage/ BBQ beef spare ribs
Wild Hay Café – Funnel Cakes, Butterfly shrimp baskets, Fried pickles & Jalapeno Poppers
Bob's Fun Foods – Snow Cones, Walking Tacos, Hot Dogs, nachos & lemonade
Ol' Country Kettle Corn – Popcorn, cotton candy, pork rinds
Arlo's Ice Cream – Ice cream, corn dogs, lemonade slushies & Root Beer Floats
Central Valley Junior Class – Pop/Water
Greeley Irish Festival Spirits – Guinness, Guinness Blonde, Smithwick's & more; Coors Light and select brews from local Scratchtown Brewing Company & Full bar of mixed drinks.
Credit/Debit Cards may be accepted by vendors. For your convenience, there will be an ATM located inside the Culture Center.
NO OUTSIDE FOOD OR BEVERAGES ALLOWED

Vendors at the Festival
At a festival like the Greeley Irish Festival, the guests and the vendors have a great relationship. Every year, we strive to bring the best vendors with the highest quality food and widest assortment of products. Visit our Vendors page, if you are looking to be a vendor at this year's festival.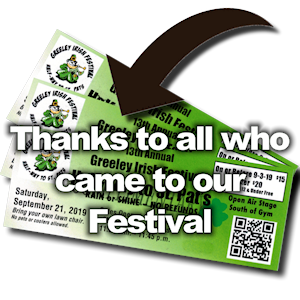 We hope you had a great time and we look forward to seeing all of you again for the 17th Annual Greeley Irish Festival September 21, 2024.