In addition to our extensive schedule of entertainment and activities, there will be a wide range of food and beverage vendors to satisfy every taste at several locations throughout the festival.
Drink ticket sales will end at 11:00pm, bar closes at 11:30pm.
Our festival food and drink vendors
Catholic Daughters - Irish stew
Frey's Pub & Grub - Burgers, hot dogs and fries
H & H Catering / Uncle Ed's - Corn beef and cabbage
Old Country Kettle Corn - Kettle corn
Pig in a Bag - BBQ
Dugan's South Side
Arlos Ice Cream
Pizza Hut
Brown Bag Kitchen - Irish sausage and coddle (Vegan style)
Credit/Debit Cards may be accepted by vendors. For your convenience, there will be an ATM located inside the Culture Center.
NO OUTSIDE FOOD OR BEVERAGES ALLOWED

Vendors at the Festival
At a festival like the Greeley Irish Festival, the guests and the vendors have a great relationship. Every year, we strive to bring the best vendors with the highest quality food and widest assortment of products. Visit our Vendors page, if you are looking to be a vendor at this year's festival.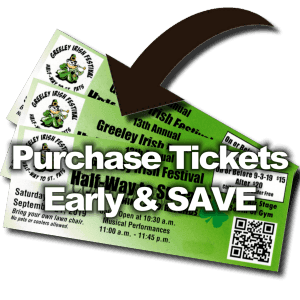 Discount tickets are available online until midnight September 6th.