We are accepting applications for the 2023 festival from a wide variety of vendors who are looking to market their products.
This year's festival will be held on Saturday, Saturday, September 16, 2023, starting 11:00 am – 11:30 pm on the historic Sacred Heart School grounds. Our mission is to promote and celebrate all aspects of Irish, Irish-American and Celtic cultures, and to instill in current and future generations an appreciation of their heritage. Past years has drawn more than 2,500 attendees.
In addition to an extensive schedule of entertainment and activities, there will be a great variety of unique food and merchandise vendors at several locations throughout the site. At a festival like the Greeley Irish Festival, the guests and the vendors have a great relationship. Every year, we strive to bring the best vendors with the highest quality food and widest assortment of products.
The festival will take place rain or shine. Vendors will be selected on a first come, first serve basis.
Vendor Benefits
Promote your business at the Greeley Irish Festival
Vendors retain all profits
Advertise your business with coupons, promotional materials, and name-identified uniformed employees
Your business promoted on festival website
To ensure event success, the festival is well publicized through print ads in local newspapers, radio ads and on social media platforms.
There will be an ATM located inside the Culture Center.
Looking to be a vendor at this year's festival? Complete and mail in one of our Vendor Application Forms.
Returning Vendor Application
Due: June 15, 2023 New Vendor Application
Due: August 15, 2023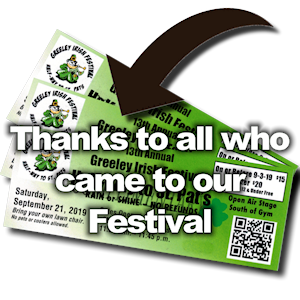 We hope you had a great time and we look forward to seeing all of you again for the 17th Annual Greeley Irish Festival September 21, 2024.