Get into the festival for Free
The Greeley Irish Festival would not be possible without the help and support of the Volunteers that donate their time and effort to make this a successful event. Every year, dozens of volunteers staff our entrances, ticket sales, Culture Center, bartenders, runners and more to make sure we have the best possible festival, ensuring everyone has an unforgettable, exciting, fun, and safe time.
A huge "Thank You" to all current and those who have volunteered in the years past.
Why you should volunteer
One FREE General Admission ticket to the festival to enjoy whenever you're not working
One FREE official awesome festival t-shirt
And most importantly, this gives you a great chance to give back to your community and meet some amazing people and artists in the process!
If you are interested in being a volunteer at this year's festival, complete and mail in our Volunteer Application Form.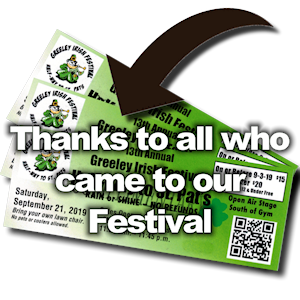 We hope you had a great time and we look forward to seeing all of you again for the 17th Annual Greeley Irish Festival September 21, 2024.