The 2023 Festival will be held on Saturday, September 16th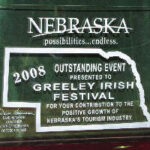 The success of the Greeley Irish Festival has been overwhelming. It has been a regional favorite event for many years and continues to draw more and more people each year. The festival is a one day event that is held annually in mid-September. All of the information that you need to come out and enjoy this fun-filled day of music, heritage, food, and merriment is provided on this website.
The mission of Greeley Irish Festival is to promote and celebrate all aspects of Irish, Irish-American and Celtic cultures, and to instill in current and future generations an appreciation of their heritage.
Our 2023 line up promises to be a memorable day of great entertainment, offering the most unique line up of Irish music. You'll hear Traditional Irish to Celtic Rock and everything in between.
A Family Clan Parade led by the Pipers, starting at Whistler's Pub, near the downtown "Shamrock Intersection" at O'Neill Avenue and Galway Street to the festival site will celebrate the official opening of the festival at 11:00 am. The outdoor Open Air Stage provides traditional Irish folk music along with dancing, including the crowd favorite, Irish Step Dancers. The Culture Center provides a series of performers, speakers, and table displays that teach guests about the history and struggles of the Irish and Irish-American people. "Kids Irish Arts & Crafts Area" will be available in the Sacred Heart School.

If you can't be in Ireland, be at the Greeley Irish Festival!
Greeley - Irish Capital of Nebraska
Greeley is located in Central Nebraska along the southern edge of the Sandhills on highway 281, 45 miles north of Grand Island. Home of the Central Valley Cougars and the county seat of Greeley County.
The history of the Irish in Greeley links back to the mid-1800's as Irish men and women were fleeing Ireland by coming to the United States. The Irish roots of Greeley is still evident today with the majority of the original street names based on counties in Ireland.
Greeley has continued to hold a large percentage of its population with Irish ties. Even today, Greeley has well over 40% of its population still claiming an Irish ancestry making it one of, if not, the most Irish town in the United States.