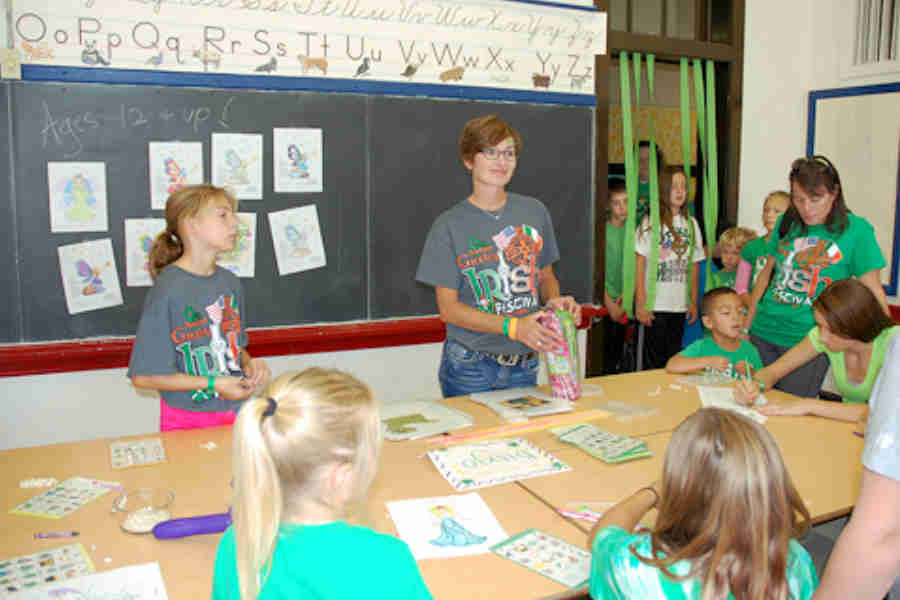 Inside the old Sacred Heart School will be filled with sounds of music and kids. You can drop off the kids at the "Kids Irish Arts & Crafts Area" located on the second floor offering a variety of arts and crafts activities headed up by Mary Woods, an energetic school teacher that your kids will love. The craft area uses the Arts to help children learn about the local Irish heritage and gives them hands-on opportunities to use the Arts for self-expression.
Mary Wood
Anne Rohan, who is now deceased, hand-picked Wood, a local elementary teacher, to build on Rohan's vision for the arts area. Rohan's training in Graphic Arts, her keen eye for design, her research of Irish heritage, and her work experience with children having behavioral difficulties, have all contributed to developing interesting and age-appropriate activities. Rohan intentionally designed the activities so that the projects appear to be coloring, gluing, assembling, and decorating – however the activities teach the children about Irish history, the Arts and language while working on their fine motor skills, using their creativity, and practicing appropriate interaction with peers and adults. The projects are "make-it-and-take it" so they will take a piece of the festival home with them to encourage recall of the event and instill pride in their artistic creations.
Wood directs all activities in the Children's Craft area during the festival and has the education and experience to be the perfect candidate for the job. A high school graduate of a Greeley County School, her Bachelor's Degree in Elementary Education is from Kearney State College, Kearney, Nebraska. She has been employed as a teacher at Lindsey Holy Family, Humphrey St. Francis, Spalding Academy, Spalding Public School and is currently a teacher for the Central Valley Public School system. Her favorite role in life is mother to five children and she enjoys volunteer work, especially when it involves working with children. She has coordinated a youth campout at the town park, been active in 4-H, and taught religious education for many years. Some of her children assist her at the Children's Craft Area during the festival so the children and youth have the opportunity to interact with peers and adults while completing their projects.